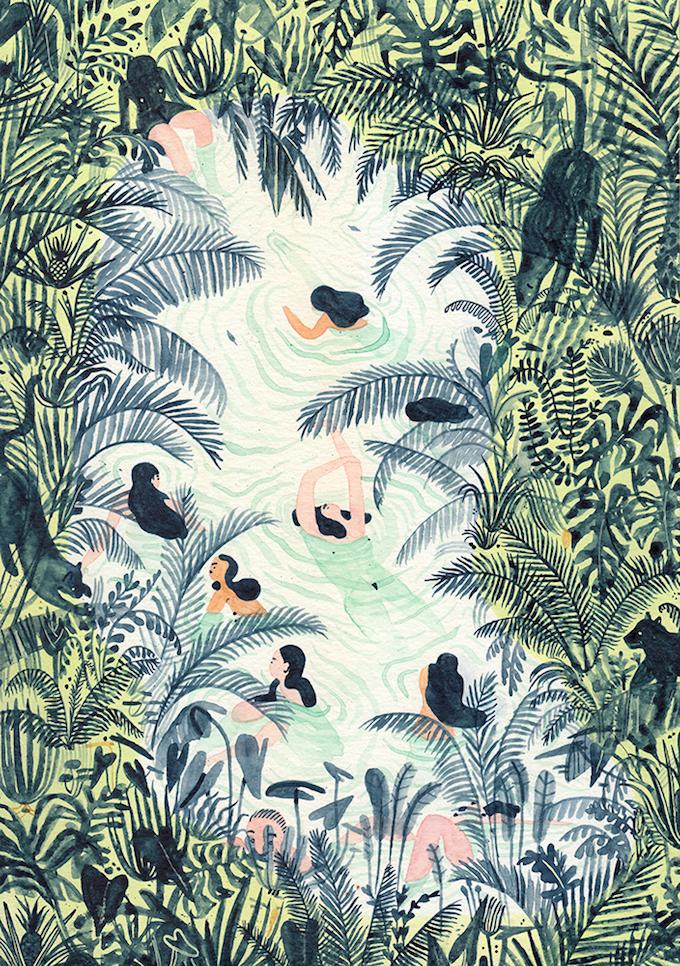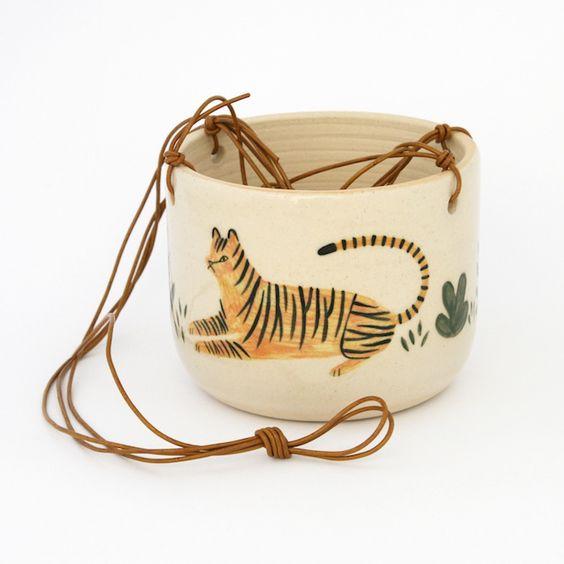 Sara Barnes von Brown Paper Bag ist eine meiner absoluten Lieblingsinspirationsquellen für außergewöhnliche Illustrationen und Stickereien. Egal ob in Bildern, Mode oder jeglicher Art von wunderschönem Handwerk. Als gelernte Illustratorin ist Sara selbst vom Fach und ich bin glücklich, sie heute als eine meiner Pinterest Pinner Interview (auf Englisch) Euch vorstellen zu dürfen.
What did you do before you founded Brown Paper Bag?
I founded Brown Paper Bag a couple years after graduating undergraduate art school with a degree in illustration. At that point, I was thinking about graduate school and was taking a continuing education class to learn about making your own website. Learning skills like CSS gave me the confidence to design and start brown Paper Bag!
What's your special story behind Brown Paper Bag and the name?
I used to make art with kraft paper, and I've always been fascinated by how it can be used in seemingly countless ways. When I first started Brown Paper Bag, it was "dedicated to works on paper and beyond," so it seemed fitting to have the name be about paper.
Which magazines, events, artists and websites/blogs do you love to follow/attend for your business?
I probably follow too many people, but someone I find very helpful is Meighan O'Toole. She specializes in online strategy and her advice about social media super helpful.  I love her newsletter!
What and who inspires you in your job & private life?
I find being outdoors very therapeutic. Whenever I need a "reset," I like to take a hike and be around great scenery. That helps me refocus and feel rejuvenated.
My friends also inspire me on a day-to-day basis with their strong work ethics. It reminds me to stay on my toes 🙂
Do you have a funny/ weird / special anecdote concerning your work with illustrators & artists in general?
When I was in undergrad and graduate school (I went to the same school for both), there is a professor/ceramicist who has the exact same name as me. For some reason, I would always get her emails and people would ask questions about her work. It happened the whole time I was in school and still occasionally happens to this day!
What are your future projects with your creative life?
I'm currently gearing up for 1 Year of Stitches, a daily embroidery project that challenges you to keep a "stitch diary." Every day, you sew at least one stitch and write about your day. In a year, you'll have an entire embroidery to remember the year by!
When I'm 55 years old, I…
I hope I'm doing more of what I'm doing now, just more well-traveled.

When did you join Pinterest?
I joined back in 2010, right after it was first created.
What fascinates you to be part of Pinterest?
I am a very visual person, so it the aesthetic of an individual pinner's pins always excites me. I like to look at someone's pins as a whole because it offers such a fascinating insight into who they are—even if I don't know them.
How & at which time do you pin on Pinterest?
I try and pin things that I like as well as things I think my followers would appreciate. Embroidery is big on my Pinterest, so I save as many interesting embroidery pins as possible.
I typically pin early in the morning and at night. During the day, I find I'm too busy with other things. I am trying to pin more, so I recently deleted Facebook off my iPhone. Now, when I'm standing in line at the grocery store or a cafe, I pin instead of scrolling through my Facebook feed.
Do you have tips & learnings on how you gained your Pinterest followers?
Pay attention to the things that do well and pin more things like it. I gained a lot of followers by making appealing-looking pins (vertical images that have eye-catching images) that got a lot of repins.
How do you use your Pinterest account?
I use Pinterest to promote my content on Brown Paper Bag as well as a tool to find new content for my blog and other writing assignments.  
What are your best Repins?
Elizabeth Pawle's Neatly "Scattered" Embroideries
Katy Biele Embroideries Inspired by Her Illustrations
An Illustrative Reimagining of the Letter "R" (Try it At Home!)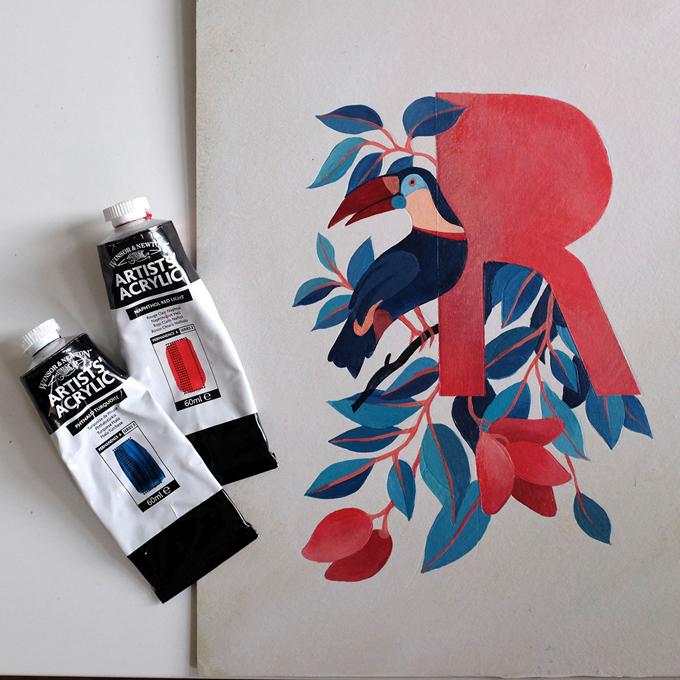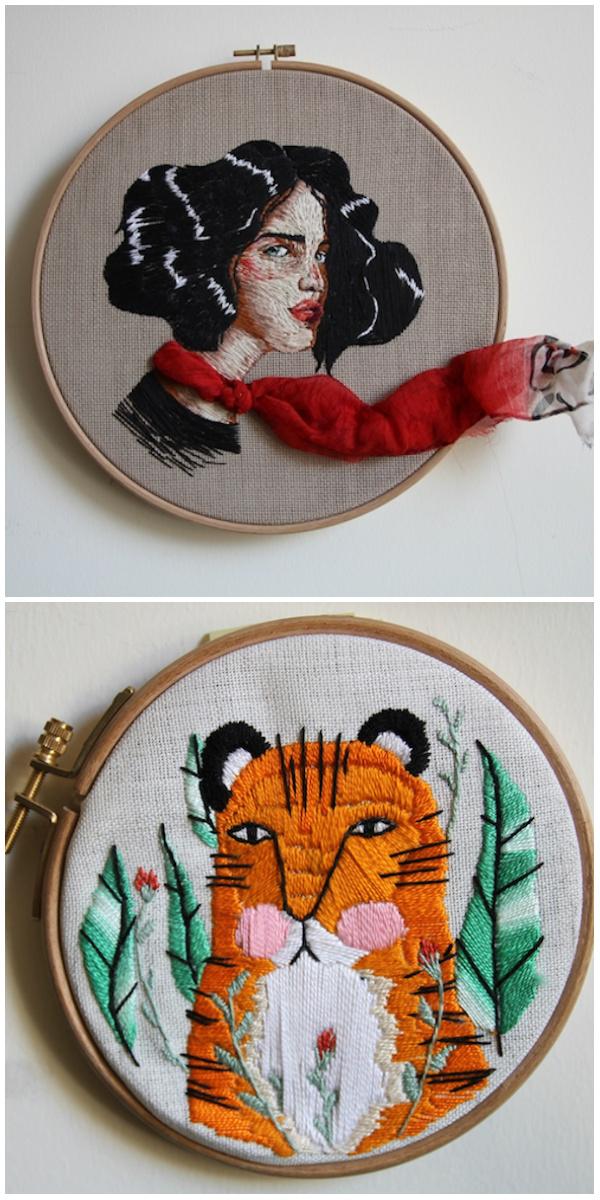 Do you use any Pinterest tools (like scheduling)? 
Nope! I'm not opposed to it, just never looked into it.
What are your 4 most favorite Pinterest Boards from people you follow or your own? Do you have special Pins you love?
Milk Magazine: x illustrations x — They have a great selection of illustrations—I'm always discovering an illustrator I had never heard of before.
Mallory McInnis: Illustration — Like Milk Magazine, I love her selections. They have a retro contemporary vibe
Mine: Beautiful breakables (ceramics) — This was one of my original Pinterest boards and I still refer to it whenever I need inspiration.
The House That Lars Built: Crafts & DIYs — I have pinned so many things from this board. It makes me want to drop everything and do one of the DIYs!
This pin of mine—an illustration by Svabhu Kohli—will always be special because it's one of the first pins I had to ever go viral on the site.
Who are your 4 most favorite Pinterest Pinners in general & why do you follow them?
Mallory McInnis: I like her aesthetic and product finds.
Jojotastic: I love her DIYs and outfit pins.
The House That Lars Built: I love her use of color and find nearly all of her pins very useful.
A Rose Cast: I like her illustration picks—especially the enamel pins.
In your opinion what is a current trend on Pinterest?
Embroidery has been a big trend for a while and still continues to do well on Pinterest.
Do you have any questions/ helpful suggestions that you wish from Pinterest in the future?
I wish I saw less "Picked for you" pins and more pins from the actual people I follow.
Thank you so much Sara for all your wonderful (p)inspirations!
Sara Barnes | Brown Paper Bag on Pinterest.
Bilder:
// 1. Monica Ramos Dschungel auf Brown Paper Bag
// 2. Tiger Keramik von Keep Company, eine Kollaboration von Jen Collins und Keramik Künstlerin Shaya Stevenson.
// 3. Forgiving Ourselves Art Print von Jun Cen
// 4. Laura Bird Keramik Haired Jars
// 5. An Illustrative Reimagining of the Letter "R"
// 6. Ezgi Pamir Stickerei